It won't go cheaply, but could prove a relative bargain compared to an actual ICON-branded FJ, even though it appears to have been prepped with a similarly high level of quality to one of its flashier cousins. If ICONs are for LA, this one's for Montana.
Another article written by the same off road publication back in April, 2013.
Dream Machine: 1978 Toyota Land Cruiser FJ45
This 1978 Toyota Land Cruiser FJ45 Long Bed (Chassis FJ45177102) is basically our ideal FJ45, at least cosmetically. We love the details like the factory 16″ split rims and the white tailgate lettering to match the roof. We can't touch the price that this one will need to meet the reserve, but it will still be a bargain compared to an ICON. Find it in Livingston, Montana
The short bed '45s has some odd proportions, so we prefer the long version. We're pretty sure that that a 1978 model would have come with the squared off grille, but this one wears the more attractive rounded grille from earlier models. It is a subtle difference but a smart looking one. The Warn winch and stock style silver bumper have us contemplating that look for our FJ, but those extended shackles up front could mean steering play. The interior looks just about perfect. Even details like the headliner and sun visors look well done. The seller claims that the truck only has 53k original miles. The missing engine photo seems a bit odd, but we suspect it is a clean and stock looking engine compartment. Factory A/C and power steering are desirable options, so the restorer knew what he was doing when he chose this example to restore. We love it.
Just competed: 1983 FJ40 (BJ) Super B Diesel in Freeborn Red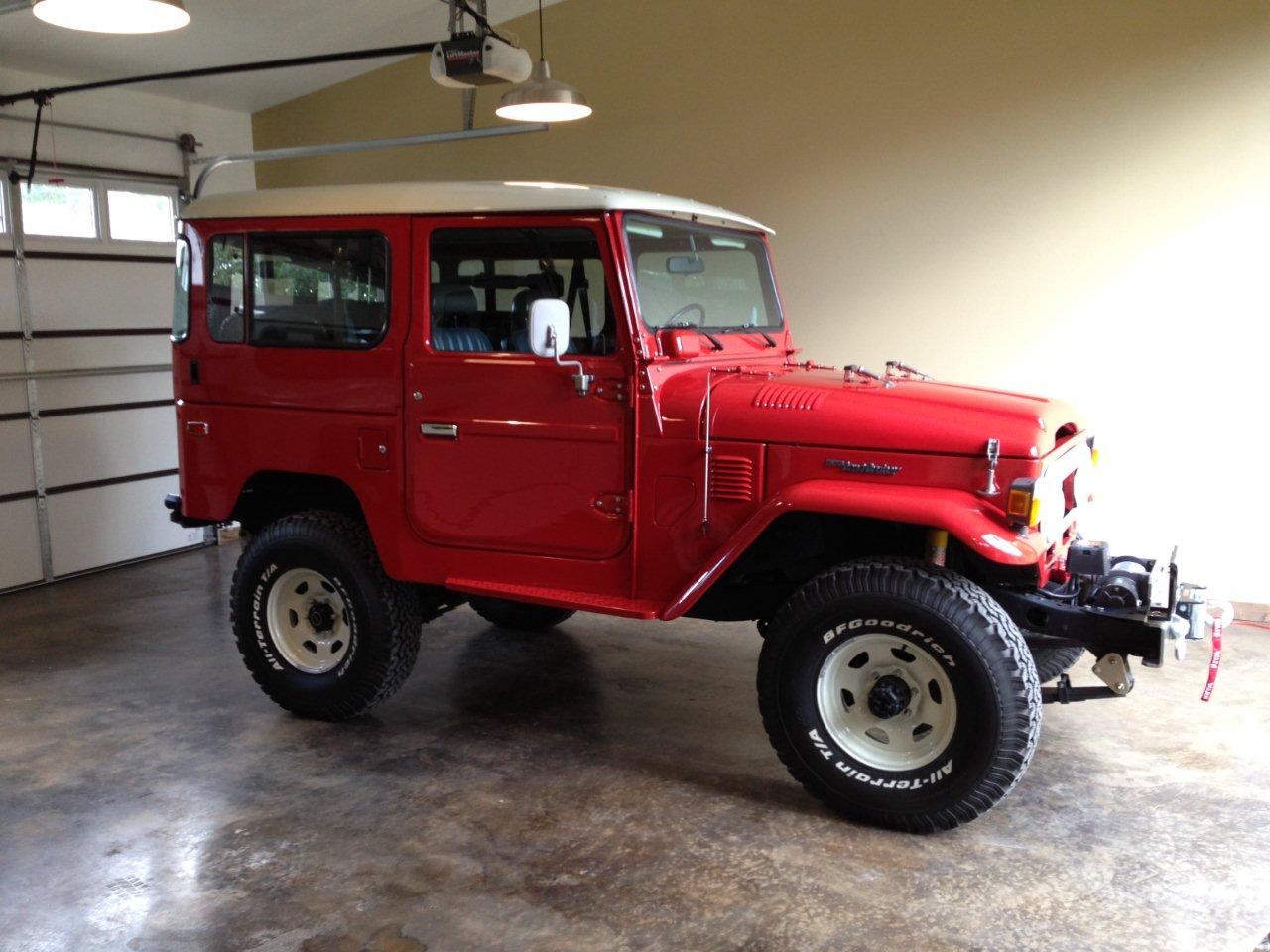 This photograph was taken of my 1984 BJ42 Land Cruiser in Sinclair, WY. If interested in supporting No Kid Hungry, you can go to eBay Motors and buy a print. 25% of all proceeds will go to No Kid Hungry. Type: "Land Cruiser Photography" in the search.